Get the keys to improve your crisis management
At the time of crisis, it is important that people get notified quickly and are up-to-date about the situation. This is where a working intranet comes in! To see how to do it, join our webinar on April 16th, either 1 PM EST or 10 AM GMT +1.
Sharing is caring, which is why we bring some additional #ValoLove on top of it! #ValoCares
In this webinar we will:
How to implement an intranet within days
Show you how to keep your employees engaged and improve the two-way communication
Teach you how to make the most your Intranet Crisis Management
Show you how a mobile app will bring extra value to your communications
Get you started with a ready-built site template for effective crisis management
Sounds pretty good, right? If so sign up to the webinar and get your crisis management going!
Ps. If you have any questions, please leave them to the given field in the form or shoot us a tweet using #AskValo and #ValoWebinar. We'd love to hear from you!
Your host: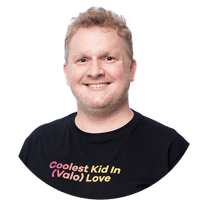 Knut Relbe-Moe
Partner Manager APAC at Valo, Microsoft MVP
Office 365 MVP, MCT, speaker,.. you name it. Always diving deeper into the SharePoint world with his never-ending smile!
Twitter: @knutrelbemoe