Valo and Office 365 - a perfect match
Intranets shouldn't come in 2,000 pieces. Leave that to puzzles.
Let's face it: an unused intranet is a broken intranet. But it doesn't have to be that way. See how Valo brings much-needed modernity to antiquated intranets. Download your free guide!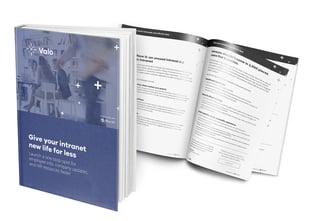 This guide covers the topics like:
Basic concept - From simplistic branding to more customized, integrated features, Valo Intranet is designed for businesses of all sizes.
Boost collaboration - Keep users engaged with interesting, relevant information, such as blogs, company news, social chat, and notifications.
Intranet as a Service - Valo's flexibility allows you to update your intranet based on the current need, rather than starting from scratch.
For more information, check out today the free guide featured by Microsoft! Just fill out the form to get started.